In this article, we'll be talking about the nanny role in the US, the types of nanny jobs. Most interesting, we'll be looking at the twist on how to migrate to the US for a Nanny job as an Au pair.
PS: Au pairs a different from a nanny.
Let's begin.
Part-time Nanny
If you choose to work as a part-time nanny, you will typically be responsible for providing child care and assistance for a few hours a day.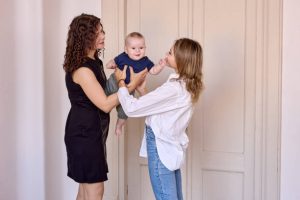 This option offers more flexibility in terms of scheduling and allows you to pursue other activities or commitments alongside your work. 
Part-time positions are often suitable for individuals who are studying, have other part-time jobs, or have personal obligations during certain hours of the day.
Full-time Nanny
Working as a full-time nanny entails providing child care services for an extended duration, often on a 24-hour basis.
Full-time positions require a higher level of commitment and availability, as you may live with the family or spend a significant portion of your day with them.
This option is ideal for individuals who are dedicated to a career as a nanny and are ready to devote their time and energy to the well-being and development of the children they care for.
What Type of Visa Do I Need to Work as a Nanny in the U.S.?
To work as a nanny in the United States, you will need a J-1 Visa.
The J-1 Visa is a cultural exchange Visa that allows individuals to participate in educational and cultural exchange programs in the United States.
The J-1 Visa specifically includes a category called "Au Pair," which is designed for individuals who wish to work as live-in childcare providers for American families.
How Do I Apply for a J-1 Visa?
Applying for a J-1 Visa requires several steps, and it is important to follow the process carefully. Here is a general overview of the application procedure:
Find an Au Pair Program
Research and identify reputable Au Pair programs approved by the U.S. Department of State. These programs will provide the necessary support and guidance throughout the application process.
Meet the Eligibility Criteria
Ensure that you meet the eligibility requirements set by the Au Pair program. These requirements typically include being between 18 and 26 years of age, having a good level of English proficiency, having a high school diploma or equivalent, having experience in child care, and passing background checks.
Complete the Application
Apply to the Au Pair program of your choice. The application usually includes personal information, references, a letter of intent, and sometimes an interview.
Match with a Host Family
Once accepted into the Au Pair program, you will have the opportunity to review potential host families and communicate with them to find a suitable match.
Attend Orientation and Training
Before travelling to the United States, you may be required to participate in orientation sessions and pre-departure training organized by the Au Pair program. These sessions will provide you with information about your rights, responsibilities, and cultural expectations.
Obtain the DS-2019 Form
Upon acceptance into the program, the Au Pair program sponsor will issue a DS-2019 form, which is the document needed for your J-1 Visa application.
Apply for the J-1 Visa
Schedule an appointment with the U.S. embassy or consulate in your home country to apply for the J-1 Visa. Prepare the required documents, including your passport, DS-2019 form, visa application forms, and any additional supporting documents specified by the embassy or consulate.
Attend the Visa Interview
Attend the visa interview at the U.S. embassy or consulate. During the interview, be prepared to answer questions about your background, your intentions in the United States, and your planned duration of stay.
Pay the Visa Fee
Pay the visa application fee as instructed by the embassy or consulate. The fee amount may vary depending on your country of residence.
Receive the J-1 Visa
If your application is approved, you will receive the J-1 Visa in your passport. Make sure to review the visa carefully to ensure that all the information is accurate.
Can I Get a Permanent Residency by Working as a Nanny in the U.S.?
Working as a nanny in the United States, specifically through programs like the Au Pair program, does not typically provide a direct path to permanent residency (commonly known as a green card).
However, there are alternative pathways to explore if you wish to obtain permanent residency in the United States.
Once you have completed the Au Pair program or fulfilled the terms of your J-1 Visa, you may be eligible to apply for other visa categories or immigration programs that offer a route to permanent residency.
These options include employment-based visas, family-based visas, or other immigration programs such as the Diversity Visa Lottery or EB-5 Investor Program.
FAQs
What are the requirements to participate in the Au Pair Program?
The requirements generally include being between 18 and 26 years of age, having a good level of English proficiency, possessing a valid passport, and passing background checks.
What are the duties of an au pair?
As an au pair, your responsibilities may include child care, assisting with household chores, helping with transportation, and being a positive role model for the children.
What are the advantages of working as a nanny in the U.S.?
A: Working as a nanny in the U.S. provides opportunities for cultural exchange, language development, professional growth, and the chance to travel and explore new places.
Are there any disadvantages to working as a nanny in the U.S.?
A: Some potential challenges include the demanding nature of the job, limited personal time, adjusting to a new environment, and forming emotional attachments with the children.
Conclusion
Working as a nanny in the United States, whether part-time or full-time, offers a unique opportunity for cultural exchange, personal growth, and professional development. 
Programs like the Au Pair Program provide a structured pathway to enter the country and gain valuable experience in child care while immersing oneself in American culture.
While the process may not directly lead to permanent residency, exploring alternative immigration options is possible.
It is important to carefully consider the pros and cons, meet the program requirements, and seek professional guidance to navigate the immigration process effectively.
By doing so, you can embark on a rewarding journey as a nanny in the United States.