Au Pair is a foreign individual between the age of 18 and 30 who provides childcare and participates in a cultural exchange. The family and Is stays with is called the host family.
The required US visa for Au Pairs is the J-1 Exchange Visitor Visa. In this article, I'll be showing you how to look for a host family as an AU pair and Migrate to the US.
Looking for a Host Family
When looking for a host family as an Au Pair, it's essential to choose a reputable agency or website. Here's why: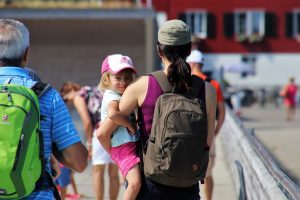 Trustworthiness
Reputable agencies and websites have a track record of successfully connecting Au Pairs with host families. They maintain high standards and ensure a reliable and secure process.
Support and Guidance
A reputable agency or website will provide you with support throughout the entire process, from creating your profile to finalizing the placement. They can offer guidance, answer your questions, and address any concerns you may have.
Vast Network
Established agencies and websites have a wide network of host families, increasing your chances of finding a suitable match. They often have access to a database of families actively seeking Au Pairs.
Create a Detailed Profile
Creating a detailed profile is crucial for attracting the right host families. Here's why:
Showcasing Your Personality
Your profile allows you to introduce yourself and highlight your unique qualities. It gives families a glimpse into your personality, interests, and values, helping them assess if you would be a good fit for their family.
Highlighting Experience and Skills
Include details about your previous childcare experience, relevant certifications, and any special skills you possess. This information demonstrates your qualifications and capabilities as an Au Pair.
Expressing Expectations
Use your profile to communicate your expectations regarding working hours, remuneration, accommodation, and other important factors. Being clear about your requirements helps ensure a better match with potential host families.
Meeting the Requirements to be an Au Pair
To become an Au Pair, you must meet certain requirements. Here are some common criteria:
Age Limit: Au Pair programs typically have an age limit, usually ranging from 18 to 30 years old. Verify that you fall within the specified age range before pursuing opportunities.
Language Skills: Host countries may have language requirements, so possessing basic language skills or willingness to learn the local language is beneficial. Highlight your language abilities in your profile.
Childcare Experience: Previous experience in childcare, whether through formal employment, volunteering, or caring for siblings, is advantageous. Highlight your experience and any relevant qualifications in your profile.
Start Searching for Families
Once you have a detailed profile, it's time to start searching for host families. Here's how you can proceed:
Utilize Databases of Host Families
Reputable agencies and websites often maintain databases of host families actively seeking Au Pairs. Browse through these databases, filter the search based on your preferences, and shortlist potential matches.
Post Your Profile
Some agencies and websites allow you to create a profile and make it visible to host families. By posting your profile, you increase the chances of families finding you and initiating contact.
Stay Active and Responsive
Regularly check your inbox and respond promptly to inquiries or messages from interested families. Actively engage in conversations, ask questions, and clarify any doubts to ensure a clear understanding.
Have an Interview Section with Host Family
Prepare Questions: Before the interview, prepare a list of questions to ask the potential family.
These questions can cover topics such as their expectations, daily routines, children's personalities, household rules, cultural exchange opportunities, and any specific concerns you may have.
Discuss Responsibilities: Use the interview as an opportunity to clarify your role and responsibilities as an Au Pair. Discuss the childcare duties, housekeeping tasks, working hours, and any additional expectations the family may have.
Cultural Fit: Understand the family's values, beliefs, and culture, and discuss how you can fit in and contribute to their household. This helps ensure a harmonious cultural exchange experience.
Communication and Support: Inquire about the family's communication style and establish expectations regarding regular updates, feedback, and problem-solving. Discuss the support system they offer and how they handle conflicts or challenges.
Prepare for Au Pair Trip
Once you have found a suitable host family, it's important to prepare for your journey as an Au Pair. Here are some key steps:
Obtaining a Visa
Check the visa requirements for the host country and gather the necessary documents.
Contact the embassy or consulate of the host country to understand the application process and timeline. 
Make sure to apply well in advance to allow for processing time.
Discussing Travel Arrangements
Coordinate with the host family regarding your travel arrangements. Clarify who will cover the travel expenses, whether it's the family or yourself. Discuss the arrival date, airport pickup, and any other logistical details related to your travel.
Ensuring Necessary Documents
Ensure that you have all the required documents ready for your trip. This may include your passport, visa, travel insurance, medical records, references, and any other documents specified by the host country or agency.
Pack Appropriately
Pack essentials such as clothes suitable for the destination's climate, personal items, and any specific items requested by the host family. Consider cultural sensitivities and pack items that can facilitate cultural exchange.
Informing Family and Friends
Notify your family and friends about your travel plans, share your contact information, and provide them with emergency contact details. It's important to stay connected and keep loved ones informed during your Au Pair experience.
FAQs
How to find a host family as an Au Pair?
Utilize reputable Au Pair agencies or websites. Seek referrals or use social media to connect with families.
What to look for in a host family?
Compatibility and shared values.
Clear communication and a safe environment. Cultural exchange opportunities
Conclusion
Start by creating a captivating profile on any AuPair hiring agency, showcasing your unique qualities and experiences. 
Once you have found your ideal Host Family, sign the Au Pair contract, taking care of all the necessary formalities.
Prepare for your trip by organizing travel arrangements, packing your bags, and ensuring you have all the essential documents in order.
Upon arrival, embrace the new country, culture, and family dynamics.
Open communication with your Host Family and establish clear expectations and routines.